Sydney-Hobart yacht race: ocean currents looking very favourable this year
20, 22, 23 December 2014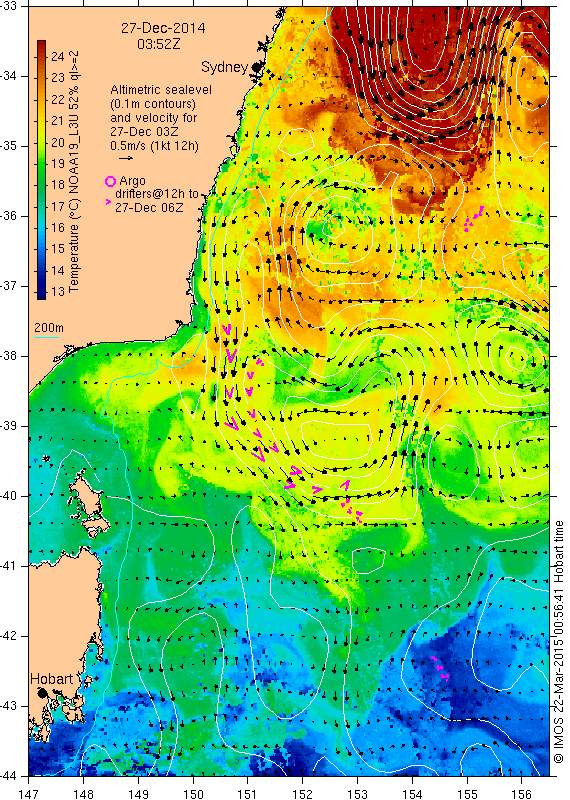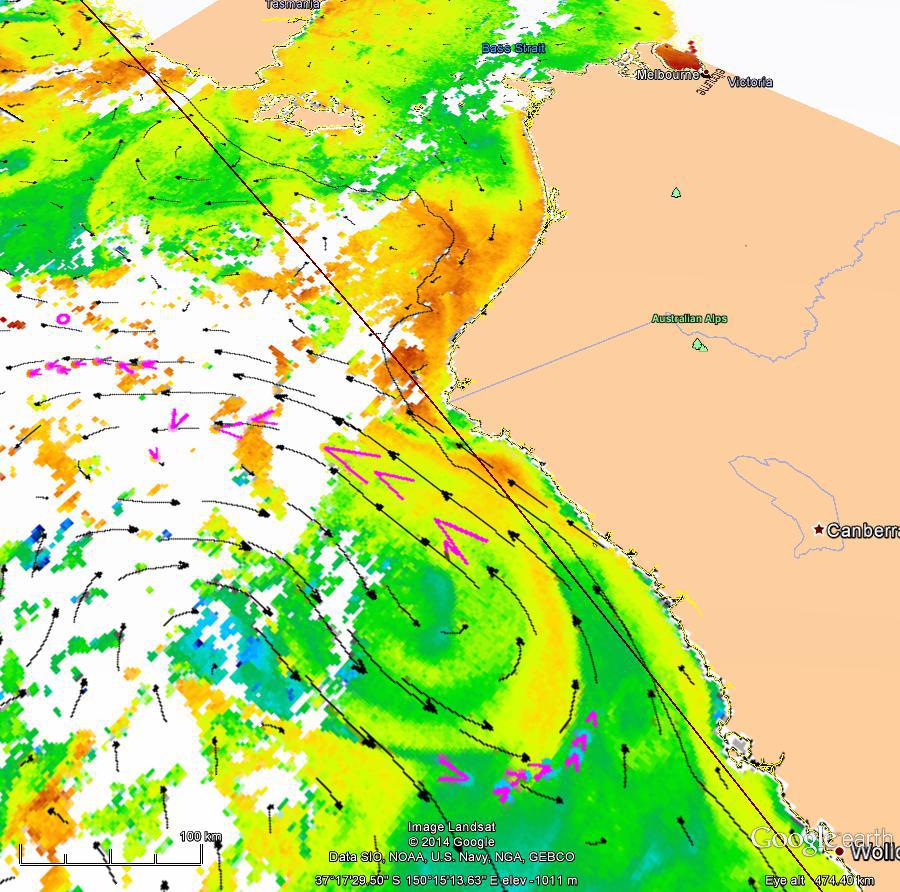 23 Dec: There is very little new information since yesterday, but what there is suggests that the eddy SE of Jervis bay is slipping southwards. A third (since 8 Dec) drifting buoy is passing by Montague Island just outside the 200m isobath, slightly slower than the previous two, suggesting the flow speed has reduced, and/or that farther offshore is where the strongest southward speed is to be encountered. Our imagery will continue to update (unless something goes wrong in our absence). Our Google Earth feed allows you to overlay the CYCA yacht position data on our maps of the ocean currents. The screen-grab at right (a view looking towards Tasmania from Sydney) is what you see if you do this today.
22 Dec: The latest satellite data indicates that the two eddies mentioned in our 20 Dec post have indeed merged, and now form a very elongated eddy whose northern extreme is about 75km off Jervis Bay. Its southern extreme, which is about 400km south, is less distinct because the eddy is partially attached to a third eddy (also anticlockwise-rotating) to the east, centred at about 39S 154E. This is most clearly seen in the larger-scale sea-surface height map for SE Australia. That map also shows the points where we have sea level data. These are quite sparse, and non-existent between the eddy centre and southern NSW. Evidence that our interpolation procedures have correctly estimated the eddy's shape is provided by the tracks of two drifting buoys which first did loops around the unmerged eddies, and are now looping around the merged eddies.
What should yachts do to make the most of the current? That's the navigator's job to decide. One thing is clear: ocean currents change significantly from day to day, so there can be a big difference between the information available pre-race (which can be several days old) and what the yachts experience. For example, last year the map for 18 Dec showed favourable currents along the southern NSW shelf. We now know, however, that by 27 Dec the flow had stopped or even reversed. To see how that happened, view the animations available via the [DATE INDEX] link on those pages.
20 Dec: It's possible that the ocean currents will give yachts more of a boost this year than in any of the last ten years. Indeed, if the current holds steady for the next week, which is possible but certainly not guaranteed, the Sydney-Hobart yachts could benefit from about 2kt of southward flow for about a third of the distance.
We had to look as far back as 2004 to find a year when the currents along the rhumbline appeared to be as favourable. But don't take our word for it. See for yourself how present conditions compare with 2005, 2006, 2007, 2008, 2009, 2010, 2011, 2012 and 2013.
As indicated on the map for today (20 Dec), our most-recent velocity estimates are valid for 15 December, a full 11 days before race day. The situation could become different by 26 Dec, especially considering that the favourable currents showing at present are associated with two anti-clockwise rotating eddies that are very close to each other. These may merge or they could move with respect to each other, possibly leaving a counter-rotating eddy somewhere along the rhumb line. The navigators know this, and will be watching the imagery right up until race time.